Released: November 13, 2020
 Mariusz Duda: all instruments and vocals
 Tracklist (main release)
Navvie

The Passage

Through Shaded Woods

Oblivion

Summoning Dance

The Fountain
 Bonus
Vyraj

Hylophobia

Transition II
 I remember the first movie soundtrack that had an impact on me, lingering long after I watched the movie. That soundtrack was Doctor Zhivago, and I was captivated by Maurice Jarre's dark, orchestral take on old Slavic traditional music (and the pomp of Russian classical). The great choruses and rich folk melodies hit some deep spot in me that must have been there from the beginning. I was too young to understand it in terms of music appreciation, but it was the beginning, and eventually led to an abiding love of folk-rock.
 Fast forward many decades….
I discovered Lunatic Soul. That music dug in more deeply than anything had before, finding a Lunatic Soul-shaped space inside me I didn't even know was empty. The earlier albums (LS I, II, and Impressions) weren't strictly folk-driven, but did have a rich, vaguely eastern feel that served much the same purpose. With the fourth album, the project shifted to something sparser, electronic, and song-driven rather than atmospheric, but even so, hints of that primal heart sneaked through.
 The seventh Lunatic Soul album, Through Shaded Woods, heralds a return to the acoustic folk-themed feel of the first three albums, but it follows a different path. The early albums tended towards ambience with some heavy moments worked in; but this album is pure joyous folk-rock. The eastern Slavic influence gives a weightiness to the the tracks that the music of the early LS albums did not possess. And there is no hesitation — right from the first note the album kicks into high gear, plugging straight into that ancient part of the brain that is connected to rhythm, pulse, and heartbeat. It is impossible for me to sit still while this album plays, and I mean that quite literally.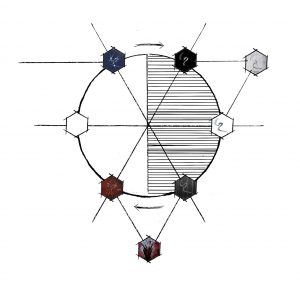 Lyrically, the album falls in with the story arc of the first two LS albums: death and rebirth, facing the past or losing it, and Duda does dip deliberately into the lyrical past with clear references to LS I and II. However, while the words evoke a yearning search for resolution, the music is for the most part hard, bright, and upbeat, driving the album along. It is an interesting contrast. There are monstrously heavy, distorted bass riffs, chants and shouts, layered acoustic guitar, thudding drumbeats (Mariusz plays everything on this album, including the drums), and of course Duda's soaring vocals throughout (words and wordless). Not every track is a folk-rock juggernaut, of course, but the overall feel is one of chugging forward motion, right to the end. Which comes rather quickly, the album being a brief 39 minutes long.
 Duda aimed (apparently) to have less eastern/oriental influences in this album than the others; however he didn't completely escape them, as can clearly be heard in the title track. This is a song of the steppes, evocative of both the east and of dark Slavic folk. One can imagine the music the ancient travellers on the Silk Road must have heard as the sun dipped behind the cliffs and the caravanserai hove into view. The vocals are juddering and thickly distorted; spooky music indeed.
 The star of this musical show though is the brilliant and compelling "Summoning Dance" — the longest track, and one that at times reaches almost ecstatic heights of pure rhythm and melody. This track demonstrates Duda's masterful command of the style, and may have the most apt title of any: whoever does not respond to its call probably needs medical attention.
 A feature of the later LS (and Riverside) albums has been a "wind-up" song — usually short, simple, and optimistic, even if not necessarily upbeat. While the core of "The Fountain" is a beautiful guitar/vocal/keyboard melody, it is so overpowered by the relentlessly swelling electronic strings and effects that the song itself struggles to survive under the weight of it all. It is distracting at best, and a bit of a disappointing end.
My reaction to this album is on two levels. On one hand, the melodies and rhythms are absolutely compelling, and I love them. They do the heart of this old folky some real good, and I play the record a lot. On an individual basis, these tracks hit me right where it counts.
 However, one of my tests for an album is the resonance, so to speak, it leaves behind when it is over. The best albums feel bigger than they are: their effect lingers in the soul, and one does not want to play anything else until those echoes subside. I have to say that Through Shaded Woods doesn't have that effect. The album, as a whole, feels insubstantial: not as much depth or meat as my favourite Lunatic Soul albums, and I think this is because the songs do not really connect together. There is no song-to-song continuum that carries the story along. This is very different from the three albums TSW is meant to follow. As well, for the first time for any of Duda's shorter albums, it feels short. When it is over, I have fragments of songs playing in my head, bits of rhythm, but the main reaction is a sense of incompleteness: there should have been something more.
 There is a bonus disc, which consists of three tracks including a 27-minute-long epic. "Vyraj" and "Hylophobia" sound like instrumental folk-rock outtakes — not bad songs by any means, and nice and danceable on their own, but it is clear why they didn't make the main release.
Then there is "Transition II" — and it is hard to find words to describe this one. The closest I can come in the Mariusz Duda canon is probably "Eye of the Soundscape" from the album of the same name, but this is in spirit, not in sound. "Transition II" is a long, contemplative wander through the history of LS, with lots of references to past songs, reworked and linked together in a brilliantly-conceived and executed compendium of ideas that swirl around, lush and atmospheric one moment, spare and almost electronic the next. Impressions of Impressions, fragments of familiar themes, ideas and snippets on the edge of memory… This is the kind of track you need when you need something that is more than just aural wallpaper; an atmospheric soundscape that forms both a sonic backdrop, and rewards close listening. As far as I'm concerned it is right up there with the best of the genre: Tangerine Dream, Fripp and Eno, Bass Communion, early Mike Oldfield.
 Apparently, there is one more Lunatic Soul album to come, one that will take its place on the "Life" side of the Circle of Life and Death, and I am very curious about how this album will wind things up. I say that because Through Shaded Woods has an air of finality about it; it very well could work as the last episode. But the plans have been laid out well in advance, and when that eighth album comes, it will spell the end of a remarkable musical journey.