Piotr Grudziński:  1975 – 2016
As of this writing, I have spent well over a week reading the flood of tributes, stories, and remembrances of Riverside's guitarist, from everyone: those who knew him intimately, those who knew him casually, and those who knew him only through his music.  It is astonishing how thoroughly he has touched people's hearts, what an impression he made simply by being himself.  I have not said anything substantial beyond shock and sadness, but I need to say goodbye now.
2016 started out as a year bound to go down in collective musical memory as a major suckfest, as one by one musical icons and beloved individuals left us…but for most of them, somehow it was not completely unexpected. Illness, age, lifestyle choices — we regret their loss, and mourn it, but at some level we know that it is inevitable.
This was not one of those times. Fate was not yet done with us.  On February 21st, with both middle fingers stuck high in the air, she dropped the biggest karmic Fuck You possible on the prog music scene: She took Piotr Grudziński.
There are people in this world whose kindness, generosity of spirit, whose sheer genuineness set them apart. They find a way into your heart just because of who they are.  I met Gru because of what he did for a living.  I am broken-hearted because of the man he was.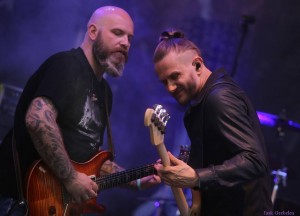 How to explain this?  These are my memories, my impressions, the things that stand out.
I only met him a handful of times, because I only discovered the band four short years ago, and living in North America, it is hard to see them play on a regular basis.  I had to make some extra efforts to do it. And even though he was not the main focus of attention, I look back and realize just how ever present he was, always ready for a chat, to share a laugh, a smoke…
Piotr was the first member of Riverside I ever met, briefly, on that cold March night in 2013, in London after their gig at the O2 Academy.  He emerged first from the back of the venue, happy to talk and sign things. I don't think he was much of a social media fan back then: "Say hello to Monika for me" I said.  "You'll probably talk to her before I will", he responded.
He was also the first member of the band I talked to for longer than the time it took to say "Hello you guys are great!" and get a signature.  A few months later on the first night of the RoSfest Music Festival, I was on the tail-end of an epic road trip and two days of no sleep, and a couple too many beers during the Friday night after-party. I spotted Piotr in the lobby and veered away from my initial target (the elevator) to say hi, (something I probably would not have done if I was sober).  Yet he was friendly, open, happy to talk, remembered me from London.  And after that, at every gig subsequently, we talked: about everything…music, bullshit, life, the future…the stuff you say with friends.  That was his gift: his infectious joy of life, his welcoming grin and hug (and muttering to me because I had travelled to Germany to see them: "You really are crazy…") He was a man of great humility, open and honest, so grateful to be able to make a living doing what he loved, and somehow uncomfortable with the notion of being thought of as a star.
He made no effort to hide his utter devotion to both his wife Monika, and to Mariusz Duda.  This love was so unselfconsciously genuine: After many weeks on tour he wanted nothing more than to go home.  And of Mariusz…the love and regard just blazed out of him.  Those two had obviously found a friendship that transcended being bandmates, they were a unity.  There is a moment that stands out to me:  during the gig in Cleveland, when Mariusz was ill and struggling to pull off a show, and they stood close, facing each other while playing, as they usually do.  This time Piotr smiled and made that two-fingered back-and-forth gesture as if to say: "Look into my eyes. Stay with me."
It was such a small moment but it conveyed so much. It will stay with me forever.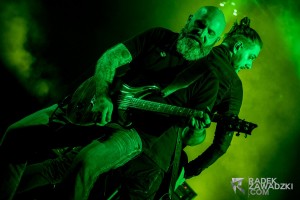 Those are just a few of my personal memories, but of course his true legacy is the music he has left behind.  The guitar is not an instrument I tend to gravitate towards, but there are very rare instances of a player whose style and sound is such that it hooks me and makes me a fan for life.  Piotr was one of those players.
The first time I ever saw a video of the band live, I was struck by his stillness on stage, eyes closed and head thrown back, totally immersed in the music he was making.  I'm not sure what I was expecting to see, but it was not that.
And yet it makes sense.  "Conceiving You" was the first Riverside song I ever heard, and Second Life Syndrome was the first album I dove into, before I knew anything about the band, before I ever watched a Youtube video of a live performance; while it was the extraordinary songs and vocals that first grabbed me, Gru's transcendent, heartbreakingly beautiful solos on that album cemented my devotion.  I still believe it is the one album that he utterly dominates.  On all the releases, though, and on stage, he played with a soaring melodiousness, an unmatched instinct for pure emotion.  His melodies came from deep within his heart and soul and poured out of his fingers.  He could play with exquisite delicacy, or blast out pure metal chords with the best of them.  It is difficult to imagine how the band can continue without him.
And yet…and yet…How could I imagine that September 2015 was going to be the last time I would ever see and talk with him?  I cannot wrap my mind around this.  The shock of reading that Riverside update…the pain-seared astonishment that radiated through the screen from the words themselves.  Then the huge, stunned outpouring of devotion, memories, sympathy and love that never seemed to abate…he has left such an enormous impression on the universe and his absence a ragged hole in the soul.
Farewell, dear Piotr.  I hope, wherever you are, you know how much you were loved.