As the end of 2015 looms, it is time to start thinking about the Musical Year that Was.  I will begin with a two – part post on the gigs I attended, starting at the bottom and working my way to the Show of the Year.
I took in a lot of gigs this year, more than I realized.  A few of those were post-rock or related shows in the style that generally does not appeal to me; I went in large part because some notable bands in the genre passed through town.  I was willing to give them a chance because more than once I have been pleasantly surprised by a band's live performance when I was not a fan of their albums. The major news of course was the return of Riverside to North America; I managed to take in four of their shows via a massive roadtrip.
Swans, (Opera House)
I was actually excited to see Swans, a rather legendary band in some corners, and one that has been around for a long time.  Their last two albums have been interesting.  But…an hour and three long drony meandering musical excursions later I had had enough.  Bored to tears, I left, the first time I had walked out of a gig in memory.  Even a naked Thor Harris was not enough to keep me there.
Mono (Lee's Palace)
Mono is a well-regarded Japanese post-rock outfit and would seem a shame to miss them, but that slow atmospheric going-nowhere-fast style of post rock is just not for me. I stuck it out for most of the gig but split early.  I got the point,  and I can say that I saw them.
Haken (The Hard Rock)
I wrote a brief and rather scathing review of their album The Mountain for Prog Archives, and I still do not understand what appeal these guys have.  However, I decided to take a chance because sometimes a band whose studio stuff you don't like can put on a decent live show (see: Anathema)…but nope.  Their derivative style of prog is no better live and the frontman is exceedingly irritating with all his rock-star posturing.
Explosions in the Sky (Nathan Phillips Square)
Another iconic atmospheric post-rock outfit, this time from the US.  It was a free gig around the PanAm games that were held in Toronto over the summer, and that was the main reason I went; I already knew I was not fond of them.  They were energetic, and skilled, but all the songs ended up sounding the same.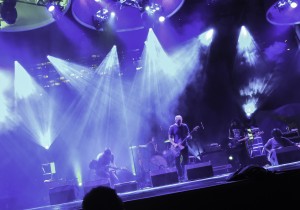 Trollfest/Korpiklaani/Ensiferum (Opera House)
A night of Finnish folk metal.  Trollfest were fun, I don't recall much of Korpiklaani, and Ensiferum were good if a bit stilted, except when the girl came on to take over — at least she had some personality.  Watching the pit in action was the most interesting aspect of the night.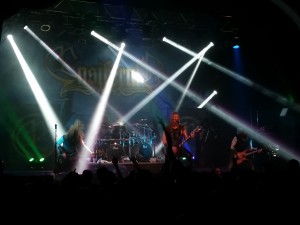 Steven Wilson (Danforth Music Hall)
I never saw Porcupine Tree, and the one time Blackfield passed through town the gig was cancelled due to the death of Wilson's father.  I have seen gigs from three solo album tours though, Grace for Drowning, The Raven etc. etc., and finally Hand. Cannot. Erase.  Of the three solo album shows I have seen, HCE was certainly the most elaborate, but alas the least engaging.  The emphasis on the mechanics of the show — the seating, the theatricality, the demands of audience behaviour – seriously robs the gig of joy and spontenaiety (there really isn't any to speak of).  I'd rather go to a dingy dive bar and see guys in workshirts and boots churn out sludge metal without even a light show (see: Torche) than sit through this again.  At least Torche are authentic and honest and the audience is part of the deal, not some distant entity expected to clap (or not) on demand.  This may well be the last Wilson show I bother with.
Solstafir (The Garrison)
This was another of those bands, post-rock from Iceland, I decided to go see despite the fact that I was not particularly fond of their last album.  They were intense and engaging and worth the gig time, so I don't feel it was time wasted.  Still not a big fan of their music though.
Aristocrats (The Mod Club)
These guys do not play the kind of music I like but they are skilled, personable, amusing, and they definitely entertained.  The bonus was that both support acts were good as well, the surprise being the local addition, The Dave Barrett Trio. Unfortunately their studio album is flat but live these guys are dynamite.
Royal Blood (Tattoo Club)
So, Royal Blood were on tour opening for Foo Fighters, and decided to play a solo show in a small Toronto club, after doing their opener.  I was lucky enough to grab a ticket for this one.  And got there early enough to snag the rail.
Well now…this was absolutely insane.  A massive heavy show, an astonishing range and power of sound coming from a bass/drum duo (I had been certain they must have had a guitarist for live shows, but no…just the bass and the pedalboard…jesus!).  Far too many people packed into too small a space,  frantic with enthusiasm and all of them trying to be at the front. I find there is a bit of rock-star-ish attitude to at least the bass player; but there is no denying their energy and intensity. Given that they had already opened for Foo Fighters a couple hours earlier they put on one hell of a performance, intense and heavy and relentless, the drummer crowd-surfing, the bass player trying to stuff his instrument into the light fixtures above the stage, the insane crazy of the audience….