Released:  October 21, 2016
Tracklist:
CD 1
Where the River Flows
Shine
Rapid Eye Movement (2016 mix)
Night Session Part 1
Night Session Part 2
CD 2
Sleepwalkers
Rainbow Trip (2016 mix)
Heavenland
Return
Aether
Machines
Promise
Eye of the Soundscape
(Triple vinyl tracklist is in a somewhat different order)
When I first discovered Riverside, I really had no idea what I was getting into.  I was astonished: this music grabbed me in a way none ever had before — emotionally, intellectually, even physically – I listened in an enraptured transcendence that never seemed to fade.  A friend of mine likes to say: "The music of your life will find you", and it was only with the discovery of Riverside and Lunatic Soul that I truly understood what he meant.  I'd listened to and loved a lot of music and artists over the decades, but nothing like this.
I eventually realized that I had also become part of an extended family, that there was a real connection – something I had never experienced before – between the band and their fans, and the fans with each other.  We shared anticipation, accolades, joy, and alas, the tragedies.  In this year especially that connection became manifest, where we came together, sharing our shock, our loss, our memories.  The line between the band and the fans blurred in the tears.
I discovered the experimental side of the band early on with the REM bonus material, and those tracks became among my favourites from that album. Fast-forward to the release of Shrine of New Generation Slaves and the spectacular "Night Sessions" bonus tracks: surely here was a direction that the guys should explore — in fact it would almost be criminal if they didn't. Of course, the "Day Sessions" tracks just reinforced this. Piotr Grudziński was openly eager to do a dedicated ambient experimental project; his excitement was palpable.  And then, it became a reality.  The guys – at least Piotr, Mariusz Duda and Michał Łapaj — headed into the studio to make this special album, this anticipated addendum to the Riverside discography.  Good news indeed.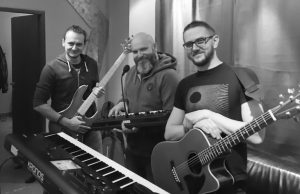 Then…early in 2016 came that devastating blow to band and fans alike; and instead of being a celebratory exploration of a beloved genre of music, the project became a memorial.  A poignant tribute to an unfinished journey, a legacy of love and loss.